Good environmental and social management is an integral part of the way Boskalis operates on projects. Boskalis has a longstanding tradition in managing environmental and social aspects in line with international responsible Business Conduct standards.
I
In addition to the local Environmental Impact Statement, prior to the start of the work, an Environmental and Social Risk Assessment was produced for the borrow area for each individual project by an external international specialist consultancy firm to identify relevant environmental and social risks and determine mitigating measures to avoid or minimize adverse impacts on the environment and community, protect and enhance the environment, and support social development and restore livelihoods where applicable. These measures have been fully integrated in the execution of the dredging works.
Environmental Management
Before starting the dredging works at the borrow area, an assessment of potential environmental risks was carried out. As part of the assessment, field, desktop and model studies were undertaken to identify sensitive receivers, the impacts of the project activities and the required mitigation strategy and monitoring program.
The following field studies were conducted for each individual project:
Water quality
Samples were collected in the borrow area to assess background or natural conditions prior to start of dredging. Preliminary results revealed that, in general, water quality was within the Philippines Water Quality Guidelines (DENR Administrative Order No. 2016-08), indicating no contamination of the waters. Water quality will be monitored throughout the works to monitor any deterioration from natural events and impacts from the works.
Sediment quality
Samples were collected in the borrow area to identify the quality of sand in relation to metals, nutrients, hydrocarbons and organochlorine pesticides. The concentration of these parameters were found to be within international sediment quality guidelines, indicating no contamination of the sand. Therefore, no seabed contamination will occur through stirring up of the sediments by dredging activities and the sand is clean to use at the land development site.
Macrobenthos
Macrobenthos are small animals living on and in the top 30 centimeters of the seabed. Samples were collected in the borrow area. Benthic fauna found were common and widespread, not notable in terms of scarcity or uniqueness. It is expected that these benthic communities will recover in relative short period of time after dredging activities have taken place.
Habitat survey
A side scan sonar and bathymetrical survey was conducted confirming that no sensitive habitats such as seagrass and coral are present.
Cultural Heritage survey
The side scan sonar and bathymetry survey is also used to identify any shipwrecks or other man-made objects that may need protection. No such objects were identified.
Desk & model studies
Desk and model studies were conducted on the following aspects:
Biodiversity and protected areas: The Borrow Site is not located within a Protected Area or Important Bird Area. The nearest non-terrestrial nationally designated Protected Area is Las Piñas-Parañaque Critical Habitat and Ecotourism Area and is remote from the Project Site (located 12 km to the east). No critical habitat was found in the area. The field and desktop studies did not reveal species or areas that are specifically sensitive to increased suspended sediment concentrations or sedimentation caused by dredging activities.
Suspended sediment plume dispersion: As dredging creates sedimentation and turbidity plumes, modelling and simulations of our dredging activities were undertaken to understand these effects. The assessment indicated that suspended sediment levels during dredging activities will be within the water quality limits of the Philippines Water Quality Guidelines (DENR Administrative Order No. 2016-08) at a distance greater than 2 kilometers from the dredger.
Erosion and sedimentation along the coastline as a result of deepened seabed in the borrow area: From the study it is concluded that the impact to the coastline from change in wave conditions is expected to be well within the range of natural variability with which the coast has been able to cope with. Therefore any additional impact of the dredging works to erosion and sedimentation along the coast is expected to be negligible. Monitoring of the coastline will be conducted during the works.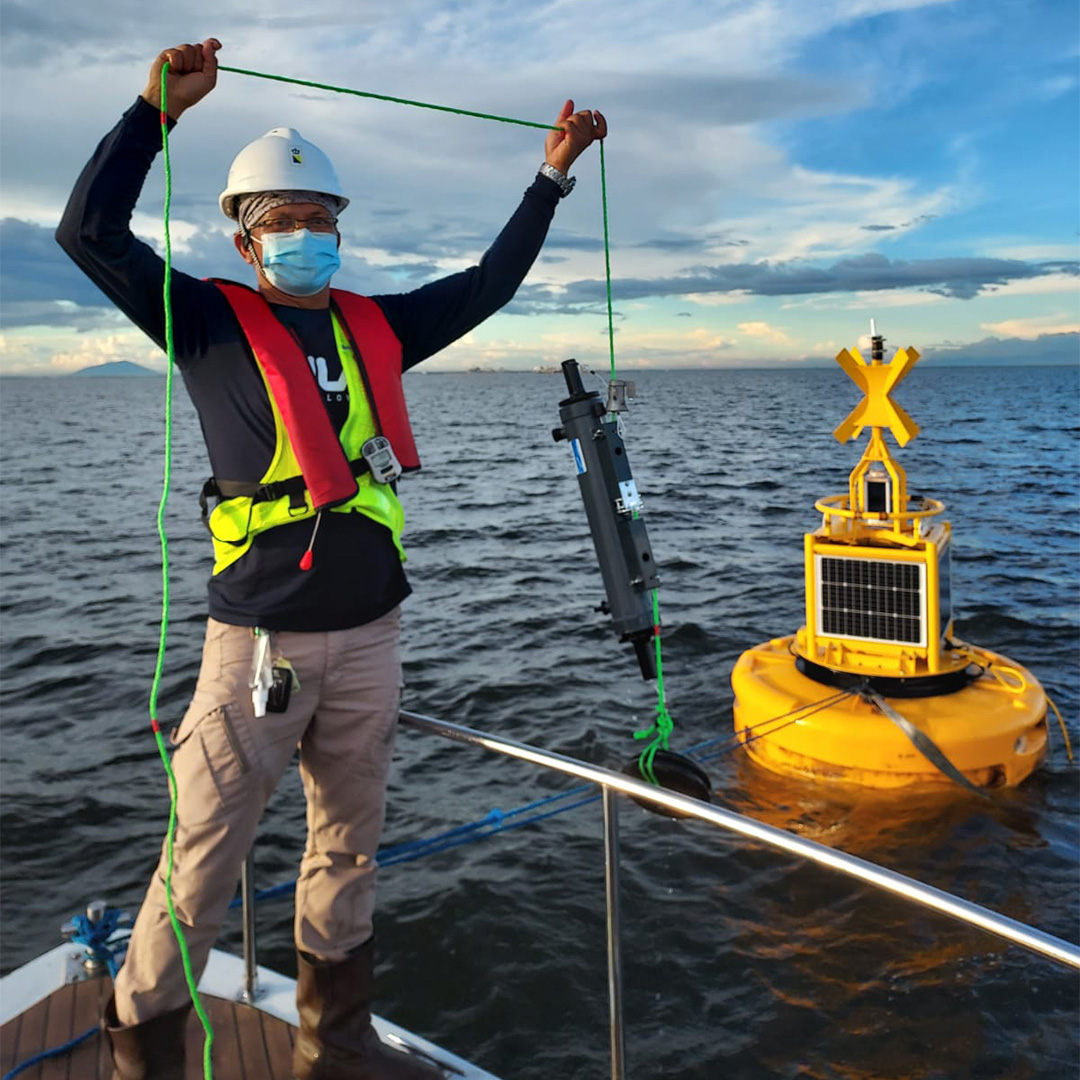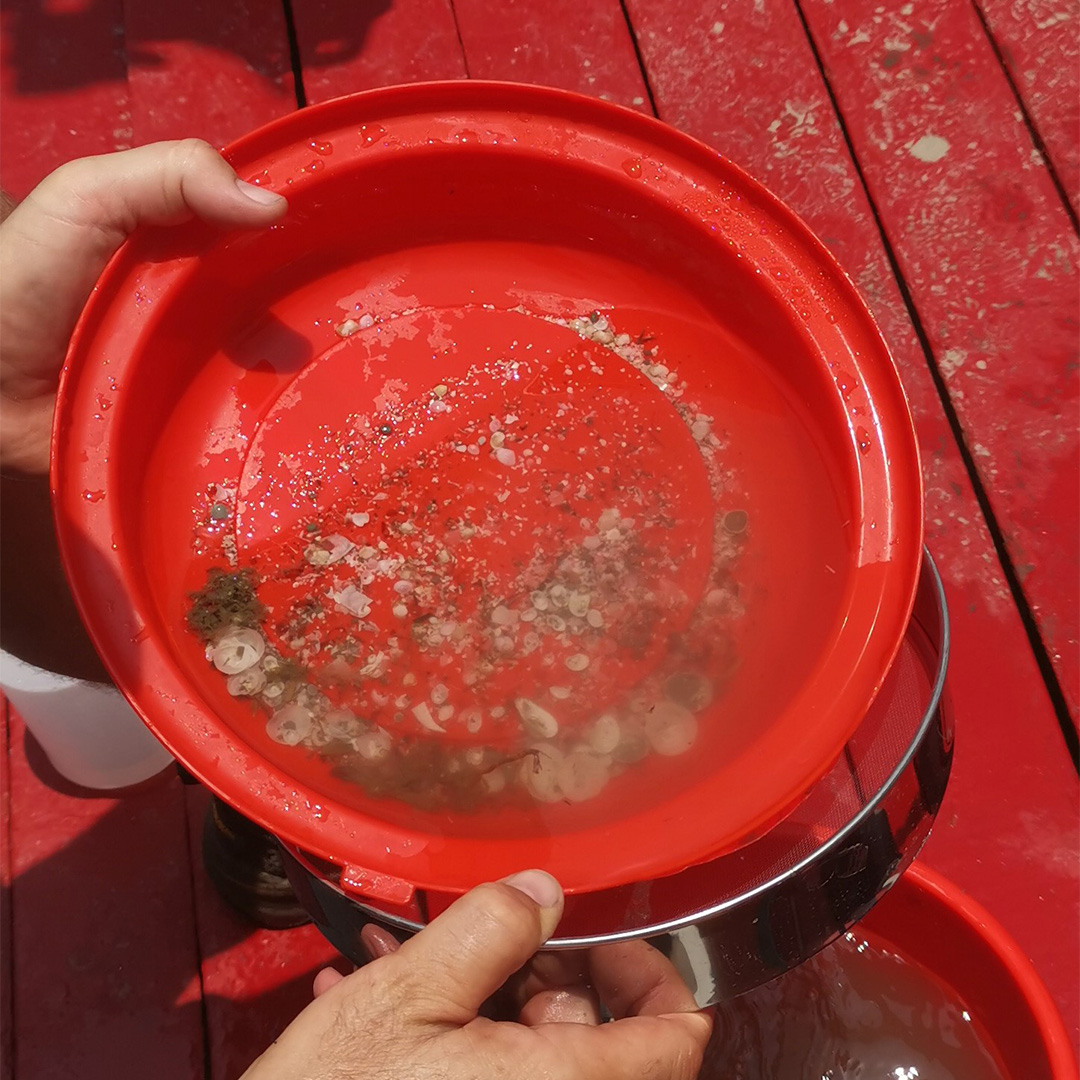 Environmental monitoring & mitigation measures
The most important potential environmental impact from dredging are related to the release of sediment into the water during the dredging process, which may impact sensitive receivers by increased turbidity (reduction of the amount of sunlight that is able to penetrate into the water column) and increased sedimentation (covering the adjacent seabed in a layer of sediments).
During dredging activities, suspended sediments will be monitored at various locations around the borrow area. The purpose of the water quality monitoring is to ensure that suspended sediment levels stay below DENR water quality guidelines. There are also monitoring points to measure natural suspended sediment levels in Manila bay further away from the dredging works. This is done to be able to determine whether suspended sediment concentrations near the dredging works are entirely due to dredging activities, or (partially) caused by high suspended sediment levels from natural events, for instance rainfall or stormy weather. An adaptive management approach will be implemented to adapt the works based on the monitoring results.
In addition, on a monthly basis water quality will be monitored for biological and physiochemical parameters and checked against DENR water quality guidelines.
The potential risk of collision with marine mammals during operations was also reviewed. Although there is limited information on the presence of marine mammals in Manila Bay, a precautionary approach is adopted. The crew is trained to monitor for marine mammals around the dredger, whilst dredging and sailing to and from the borrow site. Courses will be altered, if required, to keep a safe distance from the marine mammals and avoid collision.
Social impact
A social impact assessment has been undertaken to identify the effects on fisheries, livelihoods, marine navigation and traffic and community exposure to disease.
An assessment of potential social risks has been prepared and consists of the set of management, mitigation, and monitoring measures that will be continued during execution of the work.
Ongoing Stakeholder Engagement
Relevant authorities and stakeholders were contacted and are informed on a continuous basis about project activities,. Information on the environmental and social impact studies and the measures being taken to manage impacts is disclosed prior to the start of the works. Subsequently, communities are being informed of the start of project activities through the distribution of leaflets with information about how to contact Boskalis.
During the course of the works, engagement activities will continue to keep people informed about project activities, including measures for navigational safety, and also to develop social development programs. Community Liaison Officers have been designated to receive and respond to feedback and possible concerns.
Feedback and Grievance Mechanism
A community feedback and grievance mechanism has been established to provide community stakeholders with an accessible and efficient process to submit concerns, suggestions and grievances that may emerge in relation to project activities. All feedback and grievances will be documented and either addressed or responded to within 30 days. More information can be found on the Feedback page.
Social Development Programme
A Social Development Program (SDP) has been developed and contains initiatives that aim to restore or improve livelihoods where applicable, as well programs geared towards environmental enhancement and coastal rehabilitation. The implementation of the SDP takes place in consultation with affected communities, with programs designed based on a needs analysis.